Maxwell Rotich and Antonina Kwambai win the Porto Half Marathon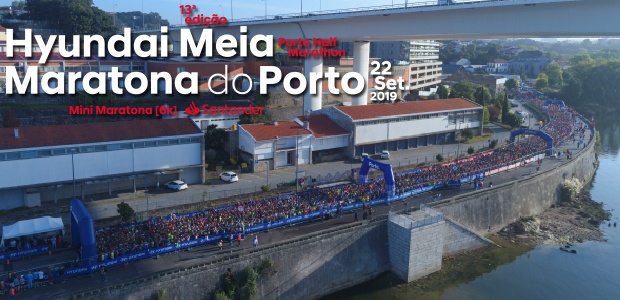 The Hyundai Porto Half Marathon celebrated its 13th edition. This on a Sunday morning where sports and health promotion were the reason for the gathering of thousands of athletes who, with family and friends, enjoyed this fantastic event.
The first group away in this edition of the Hyundai Porto Half Marathon was the athletes from the "Positive Egoism" movement. For the second year in a row, the group of wheelchair participants and chaperones, who led these athletes, made this event a more embracing and tailor-made event.
The starting gun was shot by the event's best man, Paulo Guerra. He is a European Cross Country champion and was a cross country bronze medalist at the 1999 World Specialty Championship in Belfast, a feat only achieved by a few Europeans. The starting shot filled the Douro shores with an energized and colorful movement of runners and walkers.
African athletes dominate top positions
With a heavy international elite field, the arrival at the Jardim do Calem was an exciting duel between the first two African athletes. The first athlete to reach the finish line was Maxwell Kortek Rotich (Uganda), official time 01:01:14, immediately followed by Enyew Mekonnen Alen (Ethiopia), same time, and Daniel Rotich (Uganda), at 01:01:22.
Avelino Eusébio (GFD Running) took the other national athletes by surprise in cutting the finish line in a time of 01:05:25, 12th place in the overall standings, followed by José Sousa (Trainingtheonlinedistance), at 01:05:38, and Rui Pedro Silva (Sporting CP) at 01:06:40.
In the women's race, Quiniana Antonina Kwambai was the big winner, with a time of 01:09:42, followed by Atalel Anmut Dargie (Ethiopia) with 01:10:50. Completing the podium was Chaltu Shuna Ketabo (Ethiopia) with 01:11:32.
Catarina Ribeiro (Sporting CP) was the first Portuguese woman to finish. She was in 6th place in the women's overall classification with a time of 01:12:37, followed by Susana Godinho (Sporting CP) with a time of 01:15:57 and Marisa Barros (SC Salgueiros) at 01:16:30.
The awards ceremony was attended by César Navio, representing Porto City Council / Ágora, Mario Duarte representing Vila Nova de Gaia City Council, Paulo Ferreira representing Hyundai, Paulo Natal representing Santander, and Dave Cundy from AIMS.